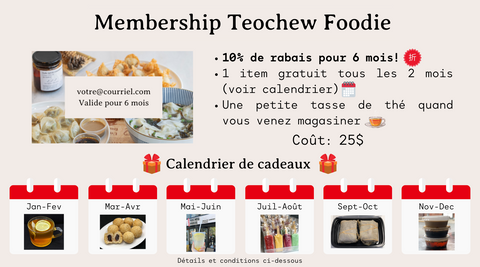 Teochew Foodie Membership Program
Discover a world of delicious Teochew cuisine and enjoy exclusive benefits with our Teochew Foodie Membership Program! Join our growing foodie community and indulge in your favorite Teochew specialties while saving on every purchase.
Become a Teochew Foodie Member today!
How it works:
Become a Teochew Foodie member for 25$ (+ tx) and enjoy:
10% off all purchases for 6 months from the date of enrollment

A free item every 2 months, rotating according to the following schedule:

January-February: 1 x Teochew Honey Lemon Tea
March-April: 1 box of Fried Sesame Balls
May-June: 1 x Teochew Fresh Lemonade
July-August: 1 x LaPop Fresh Fruit Popsicle
September-October: 1 box of Lotus Leaf Sticky Rice
November-December: 1 x Small Sauce Trio (sesame, vinegar, chili oil)

Free tea when you come purchase something at the store

At the end of the 6 month period, choose to renew your membership and keep your advantages.

 
How to sign-up and use?
At the store: Simply ask us to sign you up when passing by the store, the 10% discount will be immediately applicable to your order and you can also pick-up your bi-monthly free item.
Online: Purchase the membership online. If you want to make use of the 10% off in the online, simply use discount code TEOCHEW

after

you have purchased the memberhsip.
Note: The membership will be tied to your email address
Terms and conditions:
Valid for 6 calendar months following payment of the membership
The 10% discount applies to all purchases made in-store or online, excluding gift cards and other promotional items (double discount).
The specified free item for each 2-month period must be picked-up within the assigned 2-month period (no accumulation of items).
Memberships are non-transferable and can only be used by the registered member or their immediate family living at the same address.
Free tea at the store is limited to a 'reasonable' amount (approximately 300 mL per visit).
Becoming a member will register you for the newsletter, we highly recommend staying subscribed as this will be a priviledged channel to communicate membership benefits and perks.
Teochew Foodie reserves the right to modify or terminate the membership program at any time, with or without notice.
Teochew Foodie Membership